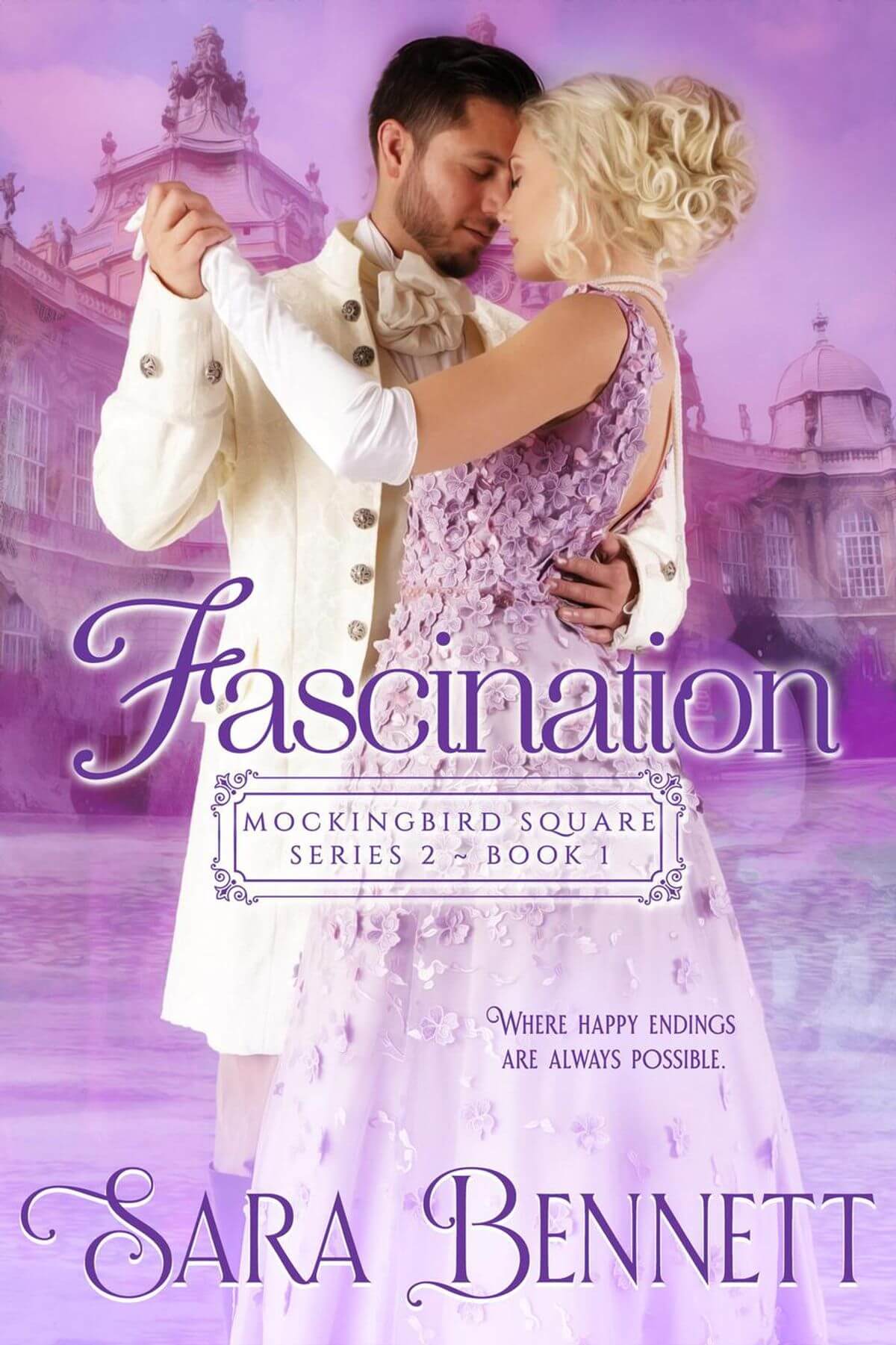 Fascination
Series 2 Book 1
Anthea Holbrooke has come to London for the Season. She is no wide-eyed debutante and her friend, Lady Deborah, a novice matchmaker, is having trouble finding her the perfect husband. And then Anthea meets Lord Jasper Waldon and things take a different turn.
Jasper has sworn never to marry but when he sets eyes on Anthea and is drawn into her troubles, he finds he can't resist her. Is this a case of fascination or has he fallen in love? And if this is love, what is he going to do about it?
Fascination is the 1st novella in the Mockingbird Square series 2.
Seduction
Series 2 Book 2
Lana is determined to find her daughter, Amelia, a suitable husband. Her own past has not been a happy one after her heart was broken by Amelia's father, George, Viscount Burleigh. Lana was George's mistress until he left her and Amelia. George had reasons for making such a difficult choice, but when he discovers his daughter is unhappy with the matchmaking plan he determines to make things right. Suddenly he is everywhere. Lana doesn't know what to think, and worst of all, much as she wishes she could hate George as he deserves, she discovers she never stopped loving him.
Can George and Lana recapture the love they once had? Or is it too late?
TEMPTATION
Series 2 Book 3
Lady Mary Trevanen made the acquaintance of Lord Garrett Rathven during her first Season. He tried to ruin her. He tried again during her second Season. Now he is back and he's desperate to win her over, although Mary doesn't understand why. She is attracted to him, yes, but does she trust him? She has important reasons for needing a gentleman to be completely honest with her and so far Garrett had held his secrets close.
Lord Garrett is trying to be a better man and part of that is gaining the affections of Mary. He wants to marry her and all seems to be going well until Toby Miles gets in his way. Toby's best friend Lady Deb Lorimer, the matchmaker of Mockingbird Square, has paired Toby with Mary, and they seem a perfect couple on paper. And yet something isn't quite right.
Why does Mary spend more time dreaming of Garrett than she does of Toby, and why does Toby find himself green with jealousy when Deb finds a beau?
This is the 3rd novella in the 2nd Mockingbird Square series. The series will end in the next novella, which gives Toby and Deb their HEA.
OBSESSION
Series 2 Book 4
In the final Mockingbird Square Series Two, Toby and Deb have their happy ending.
Lady Deborah Lorimer, matchmaker of Mockingbird Square, has loved Tobias Miles forever. Toby is oblivious to her feelings, although he knows he and Deb are good friends. Best friends. Then when his 'perfect match' falls in love with someone else, he has a moment of clarity. It is Deb he loves, and he wants to marry her.
But Deb has been called home to Derbyshire, where her obnoxious brother Lancaster has announced his engagement to the wealthy Amy Blackwood. Toby decides the only thing to do is follow her and propose. And so begins a comedy of missed opportunities.
Luckily Toby has brought his troublesome younger brother Harrison along with him, and Harrison turns out to be a master schemer. Everything should work out, as long as Harrison doesn't fall in love with Amy Blackwood, and run off with her…