Lessons in Seduction
Book 1
What is prim and proper Miss Vivianna Greentree to do when her precious haven for orphans is threatened? She has no choice but to turn to the owner of the property, Sir Oliver Montegomery—yet the heartlessscoundrel refuses to be swayed by reason. So Vivianna must resort to other means of persuasion …
Under the tutelage of Madame Aphrodite, London's most notorious courtesan, Vivianna is determined to learn the sensuous secrets that will render a man weak with desire, to melt Oliver's stony heart with a kiss, a caress and a promise. But as her encounters with Oliver become more intense, Vivianna unexpectedly discovers a fiery passion that leaves her breathless. And soon it becomes unclear exactly who is seducing whom …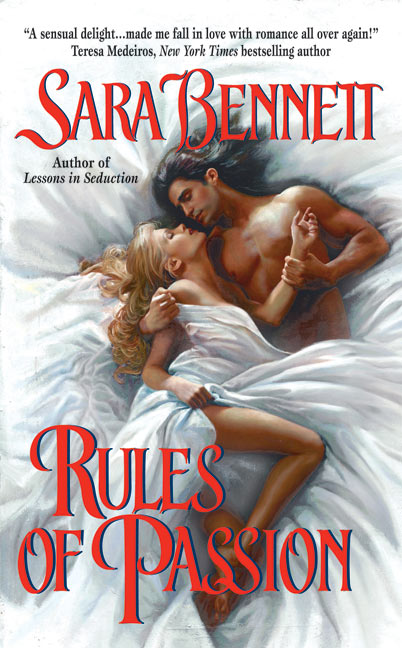 The Rules of Passion
Book 2
The boldest, most unconventional of the three Greentree sisters, Marietta believes her best course would be to emulate her natural mother, the notorious courtesan Madame Aphrodite. Being woefully unschooled in the ways of passion, however, Marietta, at Aphrodite's insistence, must first prove herself by properly seducing one man: Max Valland, the moody, disgraced, anddisinherited former Lord Roseby.
With his life and reputation already in tatters, Max is most willing to help the exquisite young minx practice her chosen craft—though he is surprised at the depth of his desire . . . and by her most unprofessional tenderness. But Marietta's plans are threatened by the dangerous mysteries swirling around this disarmingly sensual gentleman . . . and by a heart that urges her to break the courtesan's cardinal rule: never fall in love.
Mistress of Scandal
Book 3
Proper, reserved Francesca detests chaotic London and one of its most infamous inhabitants: her birth mother, the notorious courtesan Madame Aphrodite. Lovingly raised by the devoted Lady Greentree, she's content to remain in Yorkshire, far from the scandalous parent whose life and profession shock . . . yet intrigue her. But a dark, dangerous stranger she rescues on the moors is awakening a most improper desire—causing Francesca to question whether she is more her mother's daughter than she ever wished to be.
When Sebastian Thorne agrees to protect Aphrodite's estranged daughter from a dire threat emerging from her past, the fallen lord is unexpectedly seduced by Francesca's beauty. But a vigilante living on the shadowy edge of society has little hope to own such a prize—and unless he reclaims his abandoned title and lost honor, Sebastian will never get close enough to the bewitching lady to save her life . . . or win her passion.